Volunteer
Volunteering at Nevins
-
We are currently onboarding vacinated volunteers for specifc tasks. Please contact us for details.
If you are looking for ways to reach out and touch someone's life, a great place to start is at Nevins Family of Services. We are always looking for volunteers to spend time with residents and brighten their days. Play cards, assist at bingo, help with meals, read a book to residents - all of these activities need volunteers. Seniors Helping Seniors is a volunteer program run with area Senior Centers. Let us know your interests and we'll match it to a program.

Volunteering is a two way street. Your time is spent helping and enhancing another's life while you have the knowledge and well-being that you made someone's day a little brighter.

Please contact Bonnie Herrick at (978) 682-7611 or bherrick@hcnevins.org to find out more about our volunteer opportunities.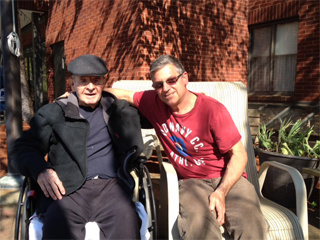 The Gift of Kindness
Sometimes the best way to make a difference is to open your heart and be a friend, whatever that means to the person who needs one. Lenny Christopher has become a great friend to Gabe Goshdigian and many other residents of Nevins. Lenny is a volunteer whose simple generosity and kindness has had an overwhelming impact on our residents, families and staff. He spends many hours visiting and taking people outside for a stroll or just for fresh air. He has the natural ability to lend an ear, lend a hand and simply make people feel special.
Nevins needs more Lenny's! You may be surprised by what you receive when you extend the same gift. But most importantly, you'll give something small but powerful to someone who has already given the world so much. Contact Bonnie Herrick at
978-682-7611
for more information.